Home
About Us
Who Else Am I?
Widow's Resources
Meeting/Events
Meet These Three
Buy Books
Meditations
Photo Gallery
Widow Stories
Pray For Widows
Pray for Loved Ones
Meet Eddie Edwards
Listen to an Interview with,
Dr. Mary Edwards
Your Friend & Founder of
Widows With Wisdom
"TRANSITION:
From Widowhood To Womanhood"
Written by
Dr. Mary Edwards
ORDER YOUR COPY TODAY!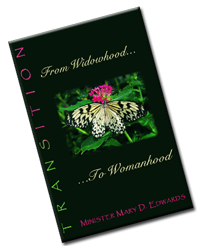 Welcome, my name is Dr. Mary Edwards. I have been waiting to hear from you. Please take a look around. We are Widows With Wisdom and we have joined forces to help widows survive and thrive.
Take our hand and let us guide you spiritually, emotionally, and in practical matters of life. Together we support one another and strengthen ourselves. Together we are survivors. We are Widows With Wisdom.
---
---
---
"The beginning of this video has some technical difficulties. Please fast forward to listen. Well worth the effort and the view. There are also numerous other messages in this archive that you will appreciate."
Inspirational Reading
Gods Grace Bubble
Christian Ways to Reduce Stress
What to Say When Someone is Grieving
Do You Feel You're Fighting Alone?
Widows Living Alone
Keep Smiling!
Balloon Story
Who's Who In Black Detroit
---
WHAT'S YOUR STORY??
We all have a story, what's yours? If you would like to share your story to help uplift, encourage and to motivate; please email me and shortly after your story may appear on this website.
Thank you in advance.
Please keep it short if possible.
Contact Us
Telephone
(313) 744-MARY (6279)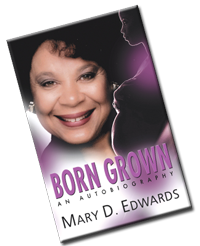 ORDER YOUR COPY TODAY!
Born Grown
by Dr. Mary Edwards